Wireless Inspection Camera (WIC) 3.5"LCD 17mm Flex tube Ip67
OEM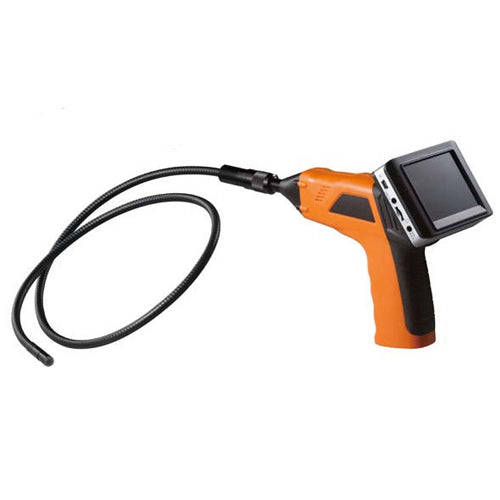 Wireless Inspection Camera with Recordable Monitor
CAMS-WIC02
DS-WIC02
Features
Allows for easy surveying of small, hard-to-reach places
Mini 17mm waterproof LED lens, 1.0 meter flexible tube
Manufactured and tested to IP67 waterproof standard
3.5 inch TFT-LCD detachable/mountable monitor, built-in rechargeable Li-battery
Video recording capability, supports up to 32GB microSD card
Adjustable brightness on lens-mounted LED light
3 useful accessories included: Hook, mirror and magnet
Lightweight, handheld design, flexible and convenient to use
Specifications
Len Dia.:17.0mm
Flexible Tube Dia.:7.5mm
Flexible Tube Length.:1000mm
Total Length:1100mm
Waterproof at flexible tube and len.(IP67)
Wireless LCD Monitor:3.5"TFT LCD
1/3'CMOS Pixels:712*486 pixels(NTSC)/704*576 pixels(PAL)
View Angel:50
Focal Distance:20mm-100mm
Two White LED light
NTSC/PAL
Memory:SD Card for the Video and Photo
LCD Recharge Li Battery Powere Supply:8V-36V
LEN & LED Powered by:4* AA battery
Optional Extention Tube:1M,2M,3M,4M,5M
AV Cable Length:1500mm
CE, RoHs, EMC approval.