1-Port VGA Audio/Video CAT5 Transmitter and Receiver
OEM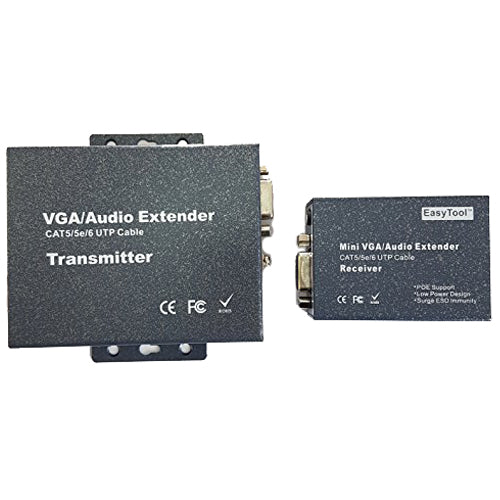 VGA Audio/Video CAT5 Transmitter and Receiver
ADAS-STY01
ST-VGA801S
Features
Extends computer VGA video + Audio signals over low-cost CAT5/CAT6 UTP cable.
Adjustable signal gain and equalization control.
Maximum signal transmission distance up to 300m (984ft) maximum depending on the resolution and refresh rate of the computer graphic card setting and the type of UTP cable used.
Supports all VGA resolutions up to WUXGA 1920x14400.
Send balun provides local audio/video loop outputs for added versatility.
VGA Audio Extender transmits VGA video up to 100 ~300 meter away from a computer using CAT5/5e/6 cable.
Each video audio extender consists of a local unit that connects to a computer and also supplies video and audio to a local monitor, and a remote unit that connects to a monitor.
Ideal solution for digital signage applications.
Supports local and remote VGA monitors.
Supports resolutions to 1920x1440
Sharpest and clearest VGA quality over CAT5/UTP-STP cable of any manufacturer.
Built-in lightning and ESD surge protection
Available with optional stereo audio or RS232 control.
Use in-house CAT5/5e/6 phone wiring to locate a monitor remotely.